Thai Iced Tea Kit
|
About

Enjoy a Thai classic with our Thai Iced Tea kit, including everything you need to make five blissful servings of this full-bodied caffeinated green tea with a touch of sweetened condensed milk. This traditional tea is best served iced with your favorite Asian cuisine, or to simply be enjoyed on a hot afternoon.

We've partnered with our friends at Copper Cow to combine blissful Thai Tea Drops with California Sweetened Condensed Milk in this exclusive sweet treat kit. 
Nutrition Facts

Calories: 100, Total Fat 2g, Total Carbs 17g, Sugars 17g
Ingredients

Thai Tea: Organic Raw Cane Sugar, Thai Tea (Green Tea, FD + C Yellow NO. 6)

Condensed Milk Packet: 

Milk, Sugar

Allergen Information:

CONTAINS MILK

5 Single Serve Thai Tea Drops

5 Packets of Copper Cow Coffee's Sweetened Condensed Milk
*Free Shipping on orders over $50
Customer Reviews
Write a Review
Ask a Question
Filter Reviews:
treat
gift
Thai
bottom
milk
Thai Iced Tea Kit
water
thai tea
Tea Drop
iced tea
04/03/2020
Timothy M.
United States
You Can Make Thai Tea at Home!
Due to present day distress, I cannot go to my favorite cafe for a Thai Tea. But no problem! I made my own at home! I daresay it was totally delicous! I was quite proud of the authentic flavor I achieved. When I make these for other people, they disappear entirely, which is an indicator that they are delicious.
03/31/2020
Gina N.
United States
Thai Iced Tea Kit
This a a really delicious tea and super easy to make. Would totally recommend for those with a sweet tooth as dessert or for an extra treat on a long day. I'm on my second order of this.
02/28/2020
Susan A.
United States
Thai Iced Tea Kit
This tea is very refreshing and smooth. The two packets are so convenient to slip in your purse and enjoy at your leisure. I am a big fan of Tea Drops!
02/26/2020
Salome O.
United States
Excellent taste!!
I love myself a good Ice Thai Tea, this one don't disappoint me, perfect flavor, and the milk is fabulous!!! Love it
02/05/2020
Laura T.
United States
Amazing as expected.
Fantastic! Tastes just like the Thai tea I get from a local place nearby. The sediment doesn't bother me at all. I usually drink most of it anyways. Only thing I'm missing is some boba! but I love so far everything I've bought from here. Just wish I could get more than 5 per box since money is super tight for me right now.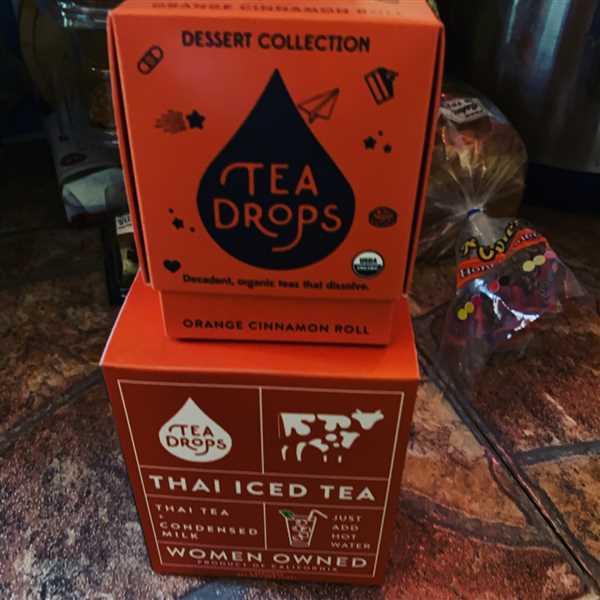 01/25/2020
Rashel D.
United States
Great Taste!
This combo kit is awesome! The only downside is all the tea leaves that settle in the bottom that try to creep up and ruin the texture when drinking directly from the glass.
01/21/2020
Mary R.
United States
YUM!
This is so delicious!
01/17/2020
Roxanne N.
United States
Best Ever
I love the Thai Iced Tea Kit. Will defineitly reorder this tea. I add a splash of full fat coconut milk to it for an extra creamy iced tea.
01/17/2020
Katherine A.
United States
Yummy
Great gift for a tea lover
01/14/2020
Dominique D.
United States
Best Thai Tea
The best Thai Tea I have ever tried outside of a restaurant.