Ultimate Dessert Sampler - 15 Drops
|
About

Our popular Dessert Collection is now available in singles in a gift-able and reusable branded box! Enjoy 15 drops, 5 each of all three dessert varieties - Aloha Pineapple Chamomile, Orange Cinnamon Roll, and Ginger Peach Cobbler. Each Tea Drop is individually wrapped in a recyclable bag and all together, shipped in a matte finished branded box that can be repurposed, NOT a wooden box.


Included are a variety of Fifteen Tea Drops 5 EACH OF 3 TEA VARIETIES from our Dessert Collection based on availability:

Caffeine Free:

Caffeinated:
CAFFEINE FREE INGREDIENTS
GINGER PEACH COBBLER: Organic Ginger, Organic Peach Powder, Organic Ground Cinnamon, Lemon Peel Powder, Organic Raw Cane Sugar, No Additives - No Artificial Flavorings
ALOHA PINEAPPLE CHAMOMILE: Organic raw cane sugar, Organic pineapple powder, Organic Chamomile powder, Organic Pineapple extract No Additives - No Artificial Flavorings
STRAWBERRY SHORTCAKE: Organic Raw Cane Sugar, Organic Tart Cherry Powder, Organic Strawberry Powder, Organic Vanilla Extract, Organic Vanilla Bean, Organic Blueberry Powder No Additives - No Artificial Flavorings
CAFFEINATED INGREDIENTS
ORANGE CINNAMON ROLL: Black assam tea, orange peel, cinnamon. No Additives - No Artificial Flavorings

*Free Shipping on orders over $50
Customer Reviews
Write a Review
Ask a Question
Filter Reviews:
flavors
teas
bottom
love
sediment
flavor
family
tea bags
taste
03/24/2020
Tierney F.
United States
So much better than I imagined
I ordered this really for the pineapple chamomile and I am loving every flavor! It's so easy to make and enjoy faster not having to wait for the tea bags to steep. I was worried about how much sediment would be in the bottom of the cup but it there really isn't much at all. Do yourself a favor a get yourself a little tea magic! .
03/24/2020
Caron C.
United States
Tasty teas
Excellent. The teas are tasty and refreshing.
03/23/2020
Jeanette
United States
A cupboard staple
These teas are amazing. The taste balance is perfect. And the flavor stays until well after it's reached room temperature. I love it. >3
03/23/2020
Jeanette .
United States
The perfect cup
I love this flavor combination. Neither flavor outdoes the other. It's truly a perfect blend. I didn't need to add anything. Perfectly sweet. From the hot pour that faded into room temperature, it tasted flawless. I can imagine it tastes amazing iced as well. I will absolutely be ordering more. I can honestly say that this tea will become a staple in my cupboard. I ordered the 3 desserts box and can't wait to try the other two. They come individually wrapped for freshness--which also comes in handy when sharing one with a loved one.
03/20/2020
Sylvia .
United States
Tastes a bit like a bite of fresh pineapple
This tea is amazing! I love how you can actually taste the pineapple. Most flavored teas give a hint of flavor, but Tea Drops go all out! Every time i drink this tea is reminds me of a bit of fresh pineapple. I love it!
03/16/2020
Carole
United States
Very Good Taste
Very wonderful taste and it is a great warm treat after dinner. Just enough spice and sweetness to make for a very enjoyable tea.
03/16/2020
Diana H.
United States
Orange Cinnamon Roll
Love these. They have just the right amount of sweetness.
03/12/2020
Ronetta N.
United States
Best Day Ever
I absolutely Love it.. the best tasting tea I've ever had. Vibrant and long lasting while being delicious! You have a buyer for life,
03/06/2020
Sharon K.
United States
Tea Perfection
I have a lot of love for My Tea Drops. The aroma & taste is 100% awesome. They're easy to make with flavors that compliment any occasion or event. In my opinion, My Tea Drop teas are tea perfection in a small package that punches big flavor. The tea selections serves as healthy gift remedies to business associates, friends and/or family, and most importantly they're so good for our planet.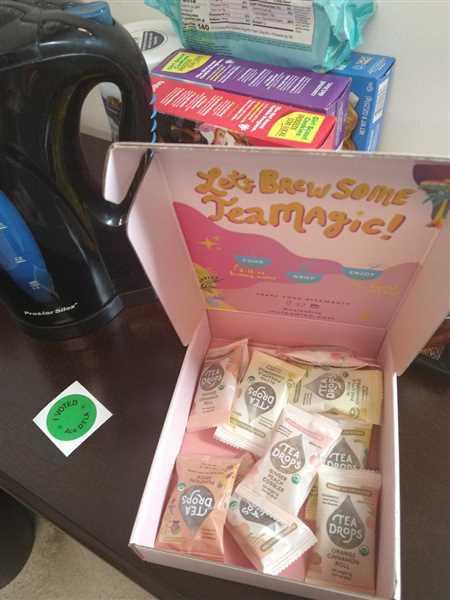 03/06/2020
Jenna S.
United States
Dessert anytime
This is a great sampler to try out the dessert tea's. They are all tasty and very low in sediment. The caffeine free one's are great to relax with.