Chai Spice
|
About

Meet CHAI SPICE:

Paying homage to the delicate notes of Masala Chai Tea, this is a spicy and sweet treat that is best complemented by a dash of milk.

 

Some sediment at the bottom of your cup is expected and drinkable. Lightly sweetened with organic cane sugar.

 

 PERSONALITY TRAITS: bold, adventurous, spicy, delicate, and sweet. 

She is fierce, spicy, and may or may not be the sixth member of the Spice Girls. Need someone to bring some spice and flare to your everyday life? She'll do it for sure.

 

PACKAGING OPTIONS:
NEW Recyclable Cylinder $13.50 - includes 10 Tea Drops in recyclable branded single serve packaging

No Box, Just Drops: Buy 25 Tea Drops individually wrapped Single Serve Tea Drops in a burlap bag. *This option does not come with instructions insert.
Chai Spice is portrayed by Natalie... Poet, puppy lover, and a public policy graduate student. All of our models are real women who are out doin' big things and makin' moves in areas they are most passionate about.
Nutrition Facts

CHAI SPICE (Caffeine Level: Medium - High):

 Calories: 25, Total Carb: 6g, Sugars: 6g
Ingredients

Organic Black Assam Tea, Organic Vanilla Extract, Organic Cardamom Powder, Organic Raw Cane Sugar, Organic Cinnamon Powder, and Organic Ginger Root Powder.

Lightly sweetened with organic cane sugar.

Can be enjoyed hot or iced!

 
*Free Shipping on orders over $50
Customer Reviews
Write a Review
Ask a Question
Filter Reviews:
Tea Drops
teas
favorite
Chai
COURSE
bottom
milk
sediment
flavor
taste
01/27/2020
Tracey Z.
United States
In love with these!
So easy and perfect!
01/21/2020
christine g.
United States
Chai Spice is Divine!
I loved the smell and taste of this perfectly balanced taste of spices. I put vanilla soy creamer in it and was delicious!
01/14/2020
Dominique D.
United States
Best Chai Spice Tea
Best Chai Spice Tea ever!
01/14/2020
Rhonda L.
United States
Chai Spice
Easy and delicious!
01/12/2020
Dee O.
United States
Chai spice is tasty
Very distinct flavor and really delicious
01/04/2020
Carey B.
United States
Great customer service!
I actually gave these tea drops as a Christmas gift but I would like to thank you for your great customer service and I'm always willing to support small businesses! Will be ordering again soon for myself!!
01/03/2020
Gabriel K.
United States
Delicious and convenient!
The Chai Tea Drops are delicious! And it's so easy to just drop them in hot water. Otherwise I would not drink tea since I just don't want to hassle with the preparation or babysitting a soaking tea bag. Tea Drops are easy enough for a bachelor like me to get in the tea game!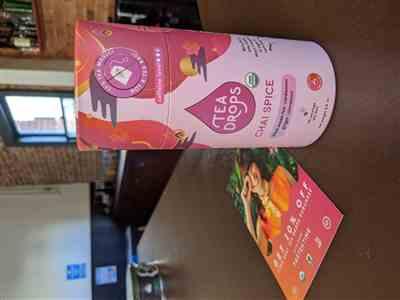 12/23/2019
Elizabeth J.
United States
Yum
Love this Chai! Not too sweet, not too spicy.
12/20/2019
JB
United States
love my chai
I am a total chai lover and these tea drops are wonderful!!! There is a little more sediment with this flavor than others I've tried, but the flavor is a deep, rich chai.
12/17/2019
Christina G.
United States
Delicious
This is the best blend I've ever tasted!