Thai Iced Tea Kit
|
About

Enjoy a Thai classic with our Thai Iced Tea kit, including everything you need to make five blissful servings of this full-bodied caffeinated green tea with a touch of sweetened condensed milk. This traditional tea is best served iced with your favorite Asian cuisine, or to simply be enjoyed on a hot afternoon.

We've partnered with our friends at Copper Cow to combine blissful Thai Tea Drops with California Sweetened Condensed Milk in this exclusive sweet treat kit. 
Nutrition Facts

Calories: 100, Total Fat 2g, Total Carbs 17g, Sugars 17g
Ingredients

Thai Tea: Organic Raw Cane Sugar, Thai Tea (Green Tea, FD + C Yellow NO. 6)

Condensed Milk Packet: 

Milk, Sugar

Allergen Information:

CONTAINS MILK

5 Single Serve Thai Tea Drops

5 Packets of Copper Cow Coffee's Sweetened Condensed Milk
*Free Shipping on orders over $50
Customer Reviews
Write a Review
Ask a Question
Filter Reviews:
Tea Drops
Thai
bottom
milk
flavor
water
thai tea
taste
home
restaurant
Amazing!
I absolutely love this Thai tea kit and have had it over 5 times by now. I love the tea leaves at the bottom and I like the extra flavor they give. I would recommend adding extra water and sugar (around 2 spoonfuls, at least that is my preferred amount) especially if you prefer a sweeter Thai tea.
05/19/2020
Natalie .
United States
Amazing!
I absolutely love this Thai tea kit! I have purchased it 3 times already and I would highly recommend it.
05/19/2020
Christine F.
United States
Love the taste!
I'm happy I got more, it's really delish. I got a sample of the Thai tea with the milk included from the sample kit. Loved it!
05/15/2020
Victoria S.
United States
It's amazing!
Honestly one of the best Thai teas I've ever had. My only complaint is the sediment from the tea but I knew that would be an issue when I bought it. Still trying to figure out a way to filter it out :)
05/15/2020
Tália .
United States
Love it!
I usually get Thai tea with boba from local tea shops but that gets very expensive and I also dislike not knowing what's in my drinks. I've started making my own boba from scratch and bought this to go with it. I just tried it today and absolutely loved it. This is my first time trying loose leaf tea and I was a little apprehensive because I'm easily grossed out by drinks with weird textures, but it didn't bother me at all. I was surprised by the fact that the sweetener is actual liquid condensed milk, I expected some powdered milk concoction. This honestly tastes better than anything I've ever bought from a tea shop. You actually get the rich green tea flavor along with the creaminess of condensed milk and it's PERFECT. Will definitely purchase again. :)
05/14/2020
Brittny K.
United States
Thai tea
This set is sooo good. I just wish there was more in it! Ive tried 2 drops to 1 milk packet and it is perfect! Definitely reminds me of going to a Thai restaurant and ordering one! Will definitely order again!
05/12/2020
Alice
United States
Love it!
The tea is very fragrant and it tastes like how they make it at the restaurants. The sediment settles at the bottom and it can be a bit annoying to drink since I use a metal straw so I have to lift the straw up to avoid drinking the sediment. Also, the flavor can become diluted if you add too much water. But overall, it tastes great and satisfies my Thai iced tea cravings.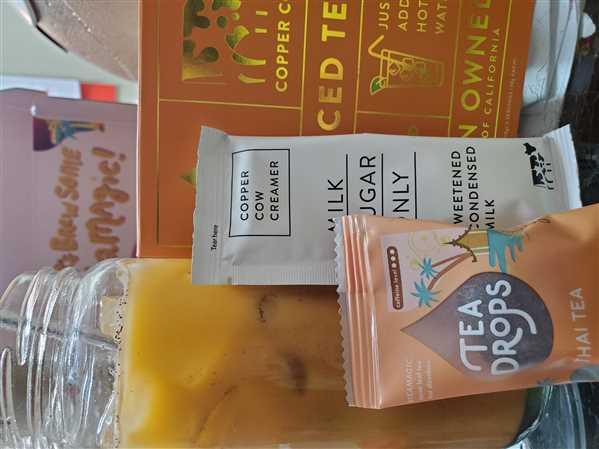 05/10/2020
Virali
United States
AMAZING AMAZING AMAZING
This women-owned organic californian business is my new favorite tea company! these products are so easy to use, high quality, and TASTE AMAZING! 10/10 im about to one-by-one try all their products. excellent for health conscious tea-loving people!
05/09/2020
Abby W.
United States
Boba Shop Quality
The fragrance when combining the tea with hot water was strong and smelled delicious. Although there was more tea leaf residue than I thought, this was inevitable because of the bag-less concept. Adding the milk in afterwards required me to wait a bit before adding ice to make it an "iced tea" but overall, it tasted exactly like the thai tea I buy at boba shops! All I need to add now is the boba and it would taste identical! Only con is that it is quite price-y for only 5 packets so this was my treat to myself!
05/07/2020
Nicole G.
United States
Good but not great
I love the idea of being able to make a single glass of Thai Iced Tea as a treat so I gave into the instagram ads and bought this kit. Let me say, the packaging and design is absolutely beautiful, so compliments to the designer! I knew to expect some sediment from the tea drops after reading other reviews. I didn't realize just how much of it there would be compared to the amount of beverage you get. The photo on the side shows a beautiful full tall glass, but the directions say to use 2oz hot water to dissolve, add the condensed milk packet, then add 2oz cold water along with ice. This is 4oz of liquid and gets my standard cup a little over halfway full with ice added. When I tried adding more water it dilutes the flavor, and the last few sips are undrinkable due to the dissolved tea. The flavor and idea is good, but due to the serving size and sediment I won't be buying again.