Ginger Peach Cobbler
|
About

Back in Stock!

Meet Ginger Peach Cobbler:

Indulge your senses. A delicious fruity blend of peaches with a zing of dried ginger. Take on peach cobbler, just like mom used to make (except with the massive amounts of butter). This box of tea contains 10 Ginger Peach Cobbler Tea Drops, perfect to warm up with after dinner.

PACKAGING OPTIONS:
NEW Recyclable Cylinder $14.80 - includes 10 Tea Drops in recyclable branded single serve packaging

No Box, Just Drops: Buy 25 Tea Drops individually wrapped Single Serve Tea Drops in a burlap bag. *This option does not come with instructions insert.
Can be enjoyed hot or iced!
Tea Notes: spicy, fruity

The Dessert Collection:
A unique collection of indulgent guilt-free Tea Drops that are mostly caffeine-free. In fun tea blends like Strawberry Shortcake, Ginger Peach Cobbler, Orange Cinnamon Roll, and Aloha Pineapple.
Nutrition Facts

Caffeine free and lightly sweetened with organic cane sugar

Calories: 25, Total Carbohydrates: 7g, Sugars: 7g
Ingredients

Organic Ginger, Organic Peach Powder, Organic Ground Cinnamon, Lemon Peel Powder, Organic Raw Cane Sugar
*Free Shipping on orders over $50
Customer Reviews
Write a Review
Ask a Question
Filter Reviews:
flavors
teas
bottom
love
sediment
flavor
family
tea bags
taste
03/24/2020
Tierney F.
United States
So much better than I imagined
I ordered this really for the pineapple chamomile and I am loving every flavor! It's so easy to make and enjoy faster not having to wait for the tea bags to steep. I was worried about how much sediment would be in the bottom of the cup but it there really isn't much at all. Do yourself a favor a get yourself a little tea magic! .
03/24/2020
Caron C.
United States
Tasty teas
Excellent. The teas are tasty and refreshing.
03/23/2020
Jeanette
United States
A cupboard staple
These teas are amazing. The taste balance is perfect. And the flavor stays until well after it's reached room temperature. I love it. >3
03/23/2020
Jeanette .
United States
The perfect cup
I love this flavor combination. Neither flavor outdoes the other. It's truly a perfect blend. I didn't need to add anything. Perfectly sweet. From the hot pour that faded into room temperature, it tasted flawless. I can imagine it tastes amazing iced as well. I will absolutely be ordering more. I can honestly say that this tea will become a staple in my cupboard. I ordered the 3 desserts box and can't wait to try the other two. They come individually wrapped for freshness--which also comes in handy when sharing one with a loved one.
03/20/2020
Sylvia .
United States
Tastes a bit like a bite of fresh pineapple
This tea is amazing! I love how you can actually taste the pineapple. Most flavored teas give a hint of flavor, but Tea Drops go all out! Every time i drink this tea is reminds me of a bit of fresh pineapple. I love it!
03/16/2020
Carole
United States
Very Good Taste
Very wonderful taste and it is a great warm treat after dinner. Just enough spice and sweetness to make for a very enjoyable tea.
03/16/2020
Diana H.
United States
Orange Cinnamon Roll
Love these. They have just the right amount of sweetness.
03/12/2020
Ronetta N.
United States
Best Day Ever
I absolutely Love it.. the best tasting tea I've ever had. Vibrant and long lasting while being delicious! You have a buyer for life,
03/06/2020
Sharon K.
United States
Tea Perfection
I have a lot of love for My Tea Drops. The aroma & taste is 100% awesome. They're easy to make with flavors that compliment any occasion or event. In my opinion, My Tea Drop teas are tea perfection in a small package that punches big flavor. The tea selections serves as healthy gift remedies to business associates, friends and/or family, and most importantly they're so good for our planet.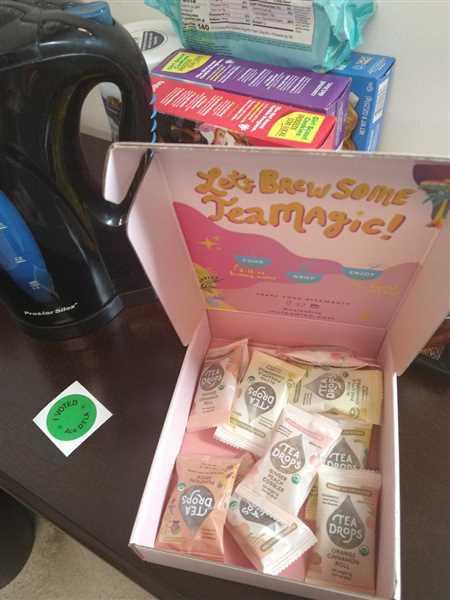 03/06/2020
Jenna S.
United States
Dessert anytime
This is a great sampler to try out the dessert tea's. They are all tasty and very low in sediment. The caffeine free one's are great to relax with.